London,
16
September
2014
EE refreshes SIM Only 4G plans
Wednesday 17th September 2014. London: EE, the UK's most advanced digital communications company, today launched a refreshed range of 4G SIM Only plans, designed to simplify the variety of options to best suit customers' needs.
Available immediately in EE shops, as well as via the EE online shop and EE telesales, the new 12 Month and 30 Day plans offer an increasingly flexible way for customers to access the biggest and fastest 4G network in the UK. The new plans start from just £9.99 per month, and for customers who take out an EE Extra plan from £15.99, receive unlimited UK calls and texts, double speed 4G and free calls to 080 numbers.
Simon Till, Head of Pay Monthly Propositions said: "Our new range of SIM Only plans will provide customers with even more value, simplicity and choice, allowing them to make the most out of their smartphone experience. When combined with the fact that our 4G service currently covers 75% of the UK population, with double speed 4G in 20 towns and cities and growing - no other network is bigger, faster and more reliable."
New EE SIM Only plans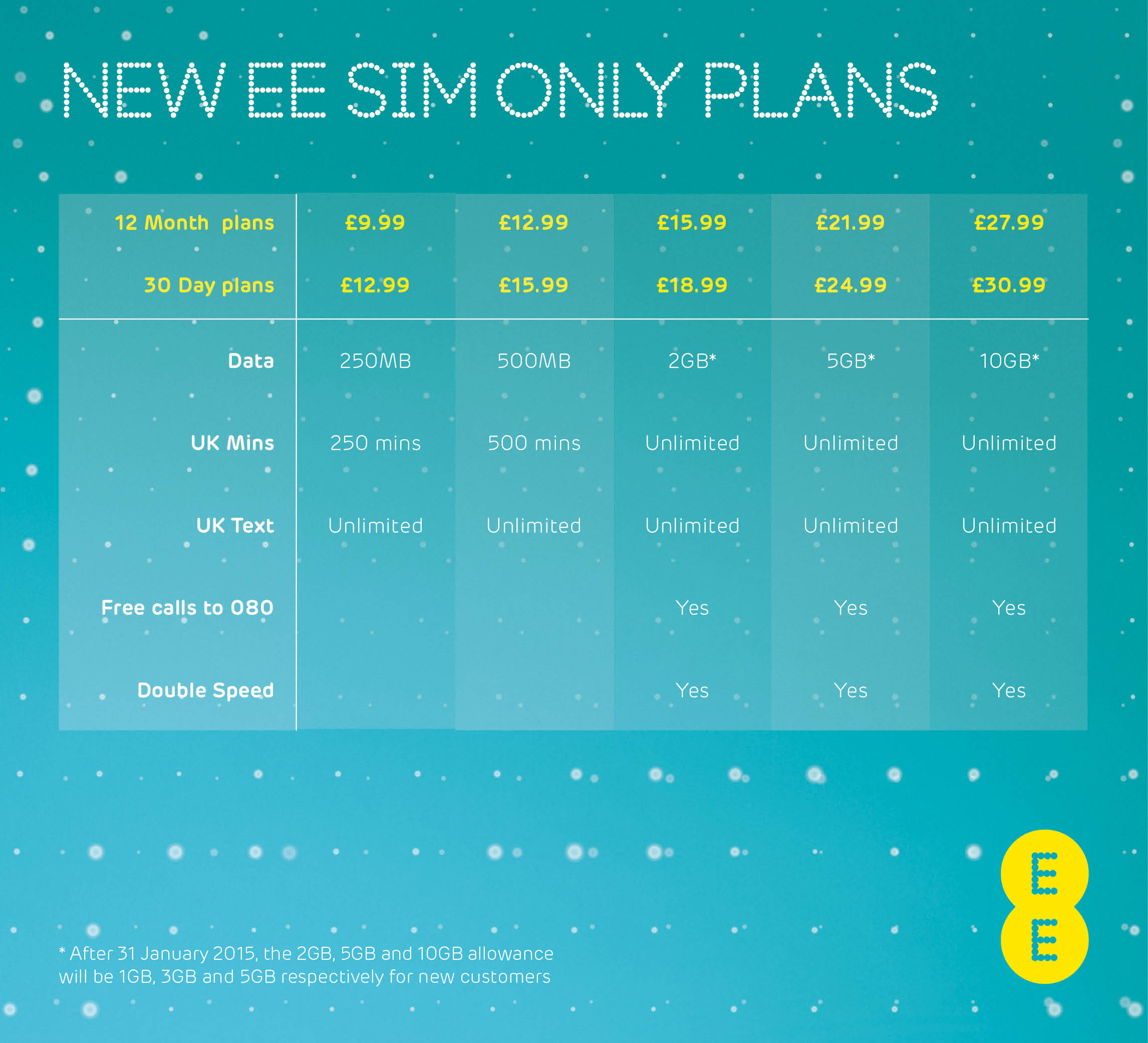 4GEE now covers 75% of the population, 263 major towns and cities and over 2,500 villages and small towns, making EE's 4G network the biggest in the UK. EE was also recently ranked number one mobile network in the UK following comprehensive independent testing from RootMetrics®.
For further information and full details of EE's new price plans, please visit www.ee.co.uk.
- ENDS -
Notes to editors:
* After 31 January 2015, the 2GB, 5GB and 10GB allowances will be 1GB, 3GB and 5GB respectively for new customers.
For more information, please contact the EE press team on:
0845 373 7070
About EE
EE is the largest and most advanced digital communications company in Britain, delivering mobile and fixed communications services to consumers, businesses, government and the wholesale market. EE has approximately 15,000 employees and 520 retail stores, and serves more than 30 million customers across its mobile, fixed and wholesale businesses.
EE runs the UK's biggest, fastest and most reliable mobile network, pioneering the UK's first superfast 4G mobile service in October 2012. EE's 4G coverage today reaches more than 70% of the UK population. EE's 2G coverage reaches 99% of the population while 3G reaches 98%. EE's superfast fibre broadband service covers 54% of the UK population, and ADSL broadband service covers 98.7% of the population.
In the last few years, EE has received extensive independent recognition including being ranked the UK's best overall network by RootMetrics®, Best network at the 2014 Mobile News Awards, Fastest Network at the 2013 uSwitch Awards, Best Network at the 2013 Mobile Choice Consumer Awards and What Mobile Awards, Network Innovation at the 2013 Recombu awards and Best Network for Business at the 2013 Mobile Industry awards.
Follow us on…
Facebook at: www.facebook.com/ee
Twitter at: www.twitter.com/ee
YouTube at: www.youtube.com/ee
LinkedIn at: www.linkedin.com/company/ee-uk