Groundbreaking new EE TV service now available from EE stores
EE TV Gogglebox family
To celebrate the arrival of EE TV in stores today, EE asked one of TV's famous Gogglebox families to trial the service. With its multi record, multi-screen functionality it allows each family member to watch their favourite show at the same time. EE TV is available through EE stores from today. For more information go to ee.co.uk/EETV
EE TV, the UK's most advanced TV service, is now available from EE's stores nationwide
EE TV smart box is free for new and existing EE mobile customers who also subscribe to EE Broadband plans of £9.95 a month or above
EE TV features over 70 Freeview channels and unique past day Replay, plus the flexibility to access additional On Demand and Catch Up services, including more than 10,000 TV series and movies
To mark the launch, one of TV's famous Gogglebox families trialled the service showing that EE TV's multi record, multi-screen functionality satisfies the most voracious of TV appetites
6th November. London. EE, the UK's most advanced digital communications company, today launches EE TV, the UK's most advanced home TV service, in EE stores nationwide.
EE TV puts mobile at the heart of the TV experience, working seamlessly with TVs, tablets and smartphones around the home to deliver the very best of live and recorded Freeview, On Demand and Catch Up services across multiple devices simultaneously.
EE TV features a host of market-leading features, including:
MULTI SCREEN
Users can pause, rewind or record live and pre-recorded programmes simultaneously on up to four devices. With EE TV, viewers can watch four different live or recorded programmes in four different rooms on TV, smartphone and tablet, so it doesn't matter if the family want to watch different things at the same time.
TOUCH CONTROL & FLICK
The EE TV app lets users browse and watch programmes, plan ahead or manage recordings without interrupting what's on the television. And with the simple flick of a finger, it's easy to move the content from a mobile device straight to the TV screen.
REPLAY AND RESTART
With the Replay feature, customers can choose six of their favourite channels to record, allowing them to view anything from the past day. Missed the start of a show? One click of 'Restart' will jump the programme back to the beginning.
GREAT CONTENT
In addition to Freeview with more than 70 channels, as well as 13 in HD, EE TV provides a range of great Catch Up and On Demand services like BBC iPlayer, Demand 5 and Wuaki.tv. Major apps including MUZU, Box +, YouTube, BBC Sport, BBC News and The Weather Network are also available, with further partners confirmed to join the service in the coming months.
The powerful TV service incorporates a companion app that delivers the simplicity of a smartphone or tablet touch screen experience. This enables instant, easy access to a menu that includes the TV guide, recordings and On Demand services.
Pippa Dunn, Chief Marketing Officer, EE, said: "Customers can now go into any EE store nationwide and sign-up for the UK's most advanced TV service. With EE TV, we have combined our expertise in mobile and home broadband to develop a game-changing home TV service that you can watch on your smartphone and tablet, as well as your telly.
"EE TV offers exceptional value for money, is simple to set up and use, and comes with market-leading features which really do allow customers to create a unique personal viewing experience."
Superb value and a warm welcome
The EE TV smart box, worth £300, is free for all EE mobile customers who sign up to an EE Broadband plan. Eligible plans start from just £9.95* per month and include free weekend calls and unlimited Broadband with speeds of up to 17Mbps. For those who want extra speed, Unlimited Fibre Broadband (up to 38Mbps) and Fibre Plus (up to 76Mbps) are available for just £19.95* and £29.95* per month respectively.
Those customers on existing pay monthly mobile plans** who sign up for EE TV and home broadband will also receive a huge boost to their 4G data allowance, increasing to 10GB or 20GB depending on their plan. The data boost is also compatible with Shared plans so customers can divide their boost among friends and family.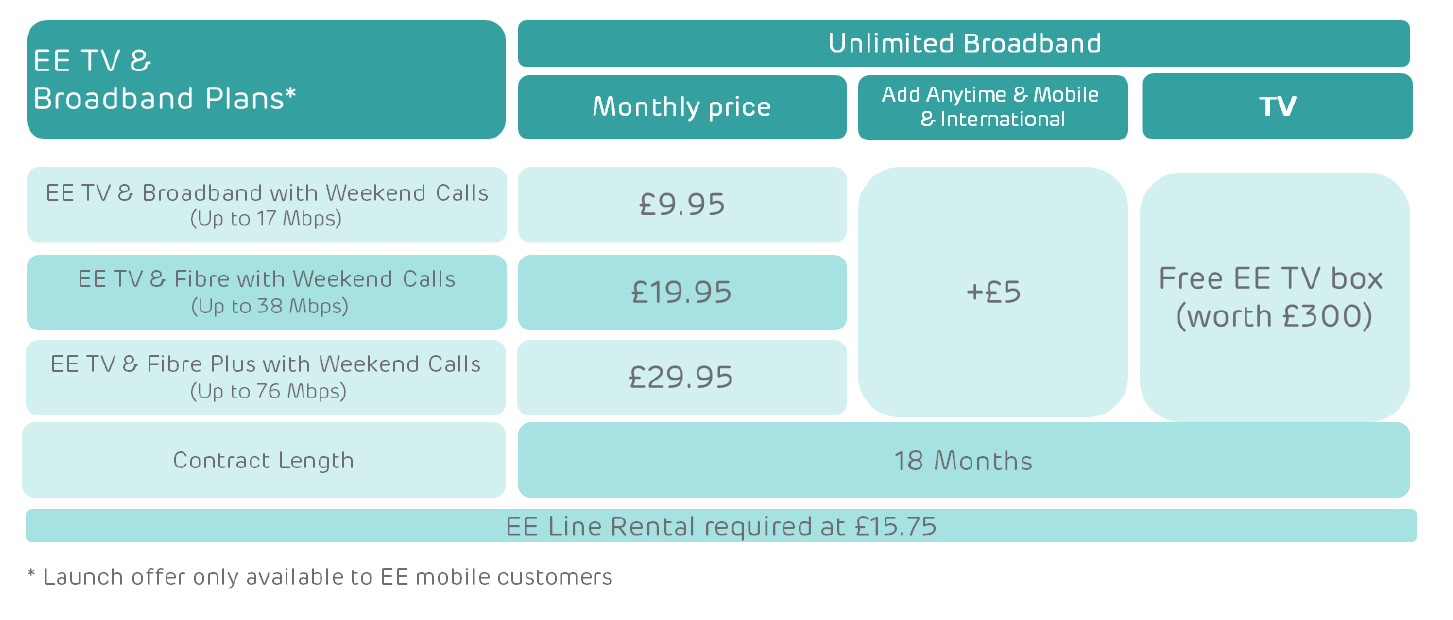 Gogglebox
To celebrate the launch, EE has teamed up with one of TV's famous Gogglebox families, the Michaels, to trial the service. The family love watching TV together, but were able to switch to their favourite shows on smartphones and tablets whenever there was a clash – saving any family arguments.
For more information, including full terms and conditions for the service, please see: www.ee.co.uk/eetv
- ENDS -
Notes to editors:
EE TV Review Units available on request
* Plus £15.75 line rental
** Up to 10GB data boost is available on new PAYM plans from £14.99. A 20GB data boost is available on plans from £46.00.
For more information, including review units, imagery and access to spokespeople, please contact the EE press team:
0845 373 7070
About EE
EE is the largest and most advanced digital communications company in Britain, delivering mobile and fixed communications services to consumers, businesses, government and the wholesale market. EE has approximately 15,000 employees and 580 retail stores, and serves more than 30 million customers across its mobile, fixed and wholesale businesses.
EE runs the UK's biggest, fastest and most reliable mobile network, pioneering the UK's first superfast 4G mobile service in October 2012. EE's 4G coverage today reaches 75% of the UK population. EE's 2G coverage reaches 99% of the population while 3G reaches 98%. EE's superfast fibre broadband service covers 54% of the UK population, and ADSL broadband service covers 98.7% of the population.
In the last few years, EE has received extensive independent recognition including being ranked the UK's best overall network by RootMetrics®, Best network at the 2014 Mobile News Awards, Fastest Network at the 2013 uSwitch Awards, Best Network at the 2014 Mobile Choice Consumer Awards and What Mobile Awards 2013, Network Innovation at the 2013 Recombu awards and Best Network for Business at the 2013 Mobile Industry awards.
Follow us on…
Facebook at: www.facebook.com/ee
Twitter at: www.twitter.com/ee
YouTube at: www.youtube.com/ee
LinkedIn at: https://www.linkedin.com/company/ee-uk