EE unveils the world's first 4G action camera and new connected strategy
The 4GEE Action Cam is the first in a range of 4G 'connected' devices planned from EE in 2015
With the 4GEE Action Cam, users can broadcast action live on the go to family and friends
UK's fastest 4G upload speeds and largest coverage make EE network perfect for consumers wanting to stream live video
New Connected Strategy to take 4G into new and exciting growth areas, targeting four categories: Connected Home, Connected Car, Connected Business and Connected You
EE, the UK's most advanced digital communications company, today unveiled the world's first 4G connected action camera – the 4GEE Action Cam. 4GEE Action Cam will allow users to broadcast HD video content live and on the go to smartphones and tablets, and it will be the first in a range of 4G 'connected' devices planned from EE in 2015, all designed to take advantage of EE's superfast 4G mobile network.
EE's Connected Strategy
EE launched 4G in 2012, and has increased capacity since then to have the UK's fastest speeds for both uploading and downloading. 4G has changed the way customers interact with digital content and the world around them – customers now stream more, share more, and have more connected devices.
With Britain's biggest and most advanced 4G network, EE is uniquely placed to be the first UK operator to look beyond mobile phones and take steps to enable the connected future. EE's new connected strategy will see it develop its own products, as well as work with innovative businesses to deliver new and exciting experiences for customers. The EE connected strategy focuses on four main areas:
Connected Home: Bringing the world into consumers' homes, making people, their families and home environment even smarter
Connected You: Allowing people to play, keep fit, interact, and share on the go
Connected Car: Keeping cars running efficiently and keeping drivers and their passengers constantly connected
Connected Business: Helping businesses and workers to be even more efficient, flexible and productive, while enabling new products and services with the potential to change the face of business in Britain
4GEE Action Cam
Inspired by consumers' ever-increasing desire to communicate and connect instantaneously, as demonstrated by the boom in live-broadcasting apps, the 4GEE Action Cam provides an opportunity to live broadcast unmissable life moments - such as a child's first steps - with family and friends, extending experiences and revolutionising the fast-growing action camera market.
Outstanding broadcasting performance
With the 4GEE Action Cam on the UK's biggest 4G mobile network, live action enthusiasts can broadcast their video moments via the multimedia streaming platform skeegle and store on an SD card to re-live those epic moments.
The 4GEE Action Cam is capable of capturing both full HD video (1080p) (720p for broadcast) and 13MP stills. The camera also allows users to drop the resolution to standard definition in favour of a higher frame rate (60fps), perfect for capturing ultra-smooth action footage, such as cycling and other fast moving adventure sports.
The 4GEE Action Cam, comes with a lightweight case to protect the camera from knocks and bumps, as well a fully waterproof case which protects it up to 60 metres. It also provides three hours of active battery life and space for up to 64GB external memory, allowing users to go higher, further and deeper while capturing every moment.
Viewfinder watch and accompanying app
The 4GEE Action Cam includes an accompanying viewfinder watch which provides a simple and convenient way to frame pictures and video, and lets the user stay in control with a quick glance at the wrist. The watch can also take photos and start/stop recording with a simple press of a button, so the filmmaker doesn't have to fiddle with the camera itself when they're in the heat of the action.
Similarly, the Action Cam app – available on iOS and Android – allows the user to have complete control over all camera functions and settings, with the added option of managing pictures, videos, data usage and top-ups.
Live broadcast on skeegle
The live broadcast functionality of the 4GEE Action Cam is powered by skeegle, the new secure personal broadcasting service that lets users broadcast their life live to friends and family.
Skeegle has three main functions: Broadcast (live streaming), Replay (your personal programme guide containing all your skeegle videos) and Circles (the way you create and manage your contact groups). Once you've created a Circle of friends from your mobile contacts, you can immediately stream live to them by simply pressing the "broadcast" icon. Each skeegle stream can last up to 10 minutes, and unlike other live mobile broadcasting services, skeegle is totally personal – only friends, family and contacts that you invite can see your stream.
Pricing and availability
The 4GEE Action Cam will be available from 16th June via EE stores, EE telesales and the EE online shop, as well as indirect partners including Dixons Carphone, Amazon, Selfridges and camera retailer Jessops. The 4GEE Action Cam will be available at the following price points: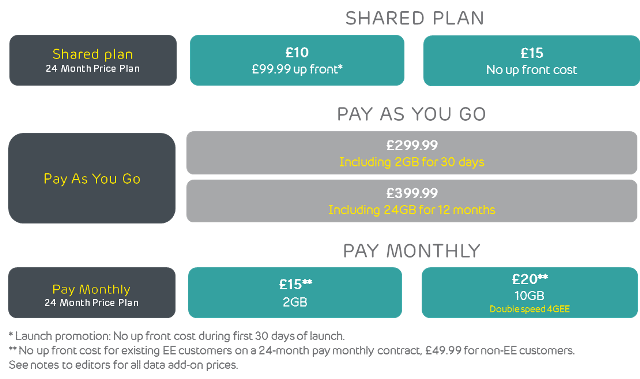 Olaf Swantee, CEO, EE, said:
"Over the past two years we've witnessed how 4G connectivity has changed behaviour and instilled a desire to connect and communicate instantaneously when out and about.
"We've introduced our 'connected strategy' as we understand our customers not only want superfast coverage, they want products that give them the very best experiences, coupled with the most innovative and exciting ways in which to share them. The 4GEE Action Cam is a great example of this, a product that keeps us connected in a new way, even in the most extreme conditions, sharing those epic moments as they unfold. It's the first of several highly innovative products from our devices portfolio to be unveiled this year for work and for play, offering a video experience like no other currently available on the market."
According to Ofcom's Mobile Broadband report from April 2015, EE has the UK's fastest 4G upload speeds, with an average of 17.6Mbps and the most coverage. 4G from EE is already in more than 600 large towns and cities and more than 5,000 villages and small towns in increasingly rural areas. EE will continue to expand 4G to cover 90% of the UK's geography.
James Kingston and the iconic Wembley arch
UK urban adventurer James Kingston demonstrated the capabilities of the 4GEE Action Cam when he became the first person in the world to stand on the top of Wembley Stadium's famous arch. Kingston was given the chance to stand 440 feet above the hallowed Wembley pitch and live stream a breathtaking panoramic view of London. Deemed impossible due to the security measures in place and lack of access to the arch, it took a team of over 30 safety and security professionals over three months to deliver the stunt.
For further information or to pre-order a 4GEE Action Cam, customers should visit: ee.co.uk/actioncam
- Ends -
Notes to editors
Additional mobile data passes available:

For more information and access to spokespeople, please contact the EE press team:
0845 373 7070
About EE
EE is the largest and most advanced digital communications company in Britain, delivering mobile and fixed communications services to consumers, businesses, government and the wholesale market. EE has approximately 14,000 employees and 548 retail stores, and serves more than 30 million customers across its mobile, fixed and wholesale businesses.
EE runs the UK's biggest and fastest mobile network, pioneering the UK's first superfast 4G mobile service in October 2012 and is the first European operator to surpass the 10million 4G customer landmark. EE's 4G coverage today reaches more than 87% of the UK population. EE's 2G coverage reaches 99% of the population while 3G reaches 98%. EE's superfast fibre broadband service covers 74% of the UK population, and ADSL broadband service covers 98.7% of the population.
In the last few years, EE has received extensive independent recognition including being ranked the UK's best overall network by RootMetrics®; Best Network at the 2014 and 2015 Mobile News Awards; Fastest Network at the 2013 and 2014 uSwitch Awards; Best Network at the 2014 Mobile Choice Consumer Awards and the What Mobile Awards 2013 and 2014; Number One for Network Innovation at the 2013 Recombu Awards; Best Mobile Network at the 2014 Recombu Awards; Best Network for Business at the 2013 and 2014 Mobile Industry Awards; and Best Consumer Network at the 2014 Mobile Industry Awards.
Follow us on…
Facebook at: www.facebook.com/ee
Twitter at: www.twitter.com/ee
YouTube at: www.youtube.com/ee
For more information, please contact the EE press team on:
0845 373 7070